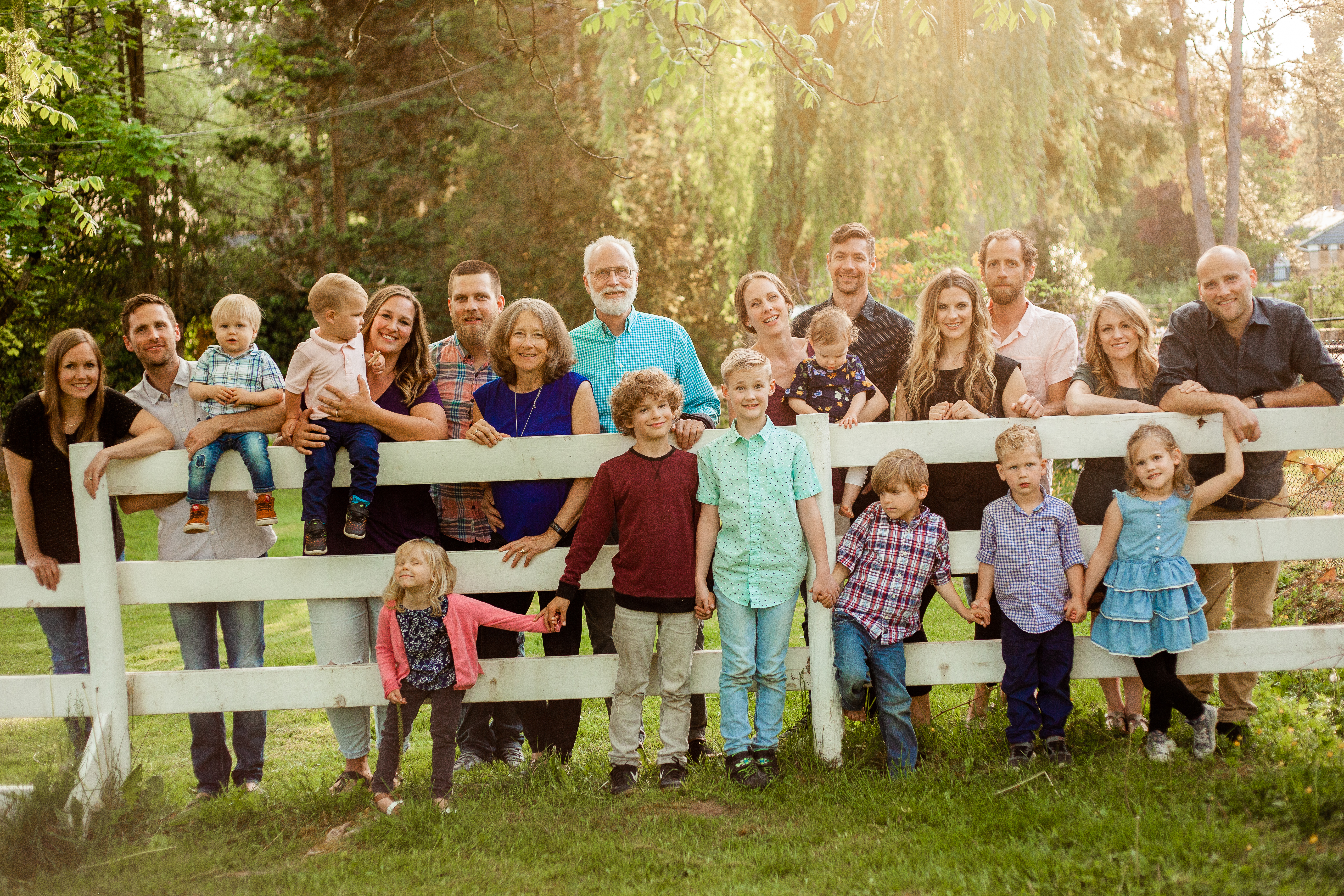 Family is a gift to be treasured and nurtured and to enjoy!
Never take those you love for granted...
More about our children and grandchildren below. Please also check out our family history (including war years in Holland, immigration to Canada, with overview of 12 generations from 1573, written by Murray's parents) and pictures.
For personal learnings and reflections on the challenges and rewards of building solid family foundations, please click here.
| | | | | |
| --- | --- | --- | --- | --- |
| Jord and Kaylee's wedding |June 2014 | Ben and Amber's wedding April 2014 | Murray and Carol's 40th Anniversary | Nov 2017 selfie celebrating Ben & Amber's visit | May 2019 taken by www.esthermoermanphoto.ca |
| Christmas 2012 | Christmas 2010 | Christmas 2010 | 2003 Reunion in Lethbridge | |
A little about Murray and Carol's children and grandchildren:
Chris and Julie (left in above photos) were married July 31, 2004 and are parents to Kai Christopher John November 16, 2009 and Jude Matthew Clarke March 31, 2014. Chris enjoyed a 10 year music career with Stabilo and continues to keep a 'hand in' as able. (Listen to a sample, Eden or visit http://christopherjohnmusic.bandcamp.com). Chris teaches music and Julie serves as vice-principal in separate elementary schools. For Julie's parents story, please click here.
Ben and Amber - Ben travelled extensively before developing 'New Creations' franchises in northern and southern Alberta. Amber Wylie was raised in Manitoba, taught at Providence College and traveled frequently to train teachers in English-as-a-Second-Language, mostly in Asia. Ben and Amber met on Vancouver Island, courted via WestJet and were engaged November 16, 2013. They married April 5, 2014 and became parents to Alia on April 21, 2015 and Evan on July 11, 2017. Ben's ministry interests include relief and development, and particularly in micro-enterprise.
Matt and Chantalle - met in high school, married February 4, 2006 and are parents of Canaan John July 3, 2009 and Avi Sophia

December 20, 2011. Matt works in a 'New Creations' franchise in the BC lower mainland where Chantalle operates Sugaring Change. See their great family photos of 2010, 2012.
Melanie and Ryan - Melanie was engaged to Ryan Cocks August 18, 2010 followed by a May 13, 2011 wedding. Melanie graduated as RN in 2009 and specializes in maternity. She served briefly in a field clinic setting in Haiti (reflections). Ryan graduated as RN at the top of his class in 2014 and specializes in coronary care. They enjoy travel and snowboarding when they can and in his 'spare' time Ryan enjoys surfing and starting small business. Brynn was born April 19, 2018.
Jordan and Kaylee - met in high school, were engaged November 28, 2013 and married June 13, 2014. We love the way they announced anticipation of the birth of their first child, Rhett Calvin - born Dec 10, 2015. Rhett's brother Auckland Roger Henry was born October 3, 2017. Jordan works for the City of Maple Ridge in road maintenance and Kaylee, who is certified in childhood education and worked with special needs children before their marriage, operates a small home business. Current photo here.