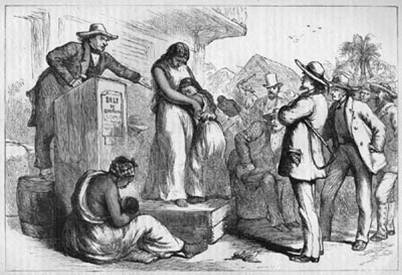 A slave auction before Christians fought successfully to make them illegal. Despite its illegality, human trafficking remains and Christians continue to fight.
Effects of the Gospel in History
Learn more - some options:

Prefer to listen? Informal lectures by Dr. Rikk Watts of Regent College (Vancouver) on:
Prefer to read?
Vincent Carroll & David Shiflett, Christianity on Trial: (Encounter Books, San Francisco),2002.
Rodney Stark, For the Glory of God: How Monotheism Led to Reformations, Science, Witch-Hunts, and the End of Slavery, Princeton University Press, 2003.
Alvin J. Schmidt, How Christianity Changed the World. Zondervan, 2001, 2004. Summary here.
Jeremiah J. Johnston, Unimaginable: What Our World Would Be Like Without Christianity. Baker Books, 2017
Prefer a more academic approach?
The Missionary Roots of Liberal Democracy, Robert D. Woodberry, National University of Singapore, published in the American Political Science Review Vol. 106, No. 2 May 2012. Click here for PDF.

An economic study: www.haloproject.ca finds
that for every dollar a local Christian congregation spends, the community receives an estimated $4.77 worth of common good services; services a city need not provide.